When not telling stories, Louise has milked cows in Vermont, sailed a two-masted schooner from Leningrad to NY with a crew of Soviets and Americans (in 1989), worked on board the Sloop Clearwater "flagship of the environmental movement" on the Hudson River, lived on an uninhabited island in Maine, and slept in a cave in Alabama.
Now, she lives with her husband Holmes, and their two children on Clapping Hands Farm, an off-the-grid homestead in Pittsboro, NC – the home of Clapping Hands Farm summer camps and other programs for children.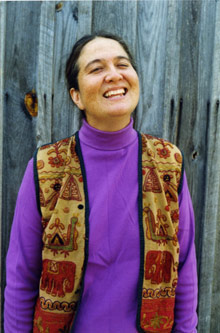 LOUISE HAS TOLD STORIES AT VENUES FROM A TO Z
. . . Art Museums, Adult Sunday School Classes, Arts Councils, Birthday Parties, Book Stores, Campfires, Churches, Coffeehouses, Company Picnics, Conference Centers, Craft Fairs, Day Care Centers, Diversity Trainings, Earth Day Events, Elementary Schools, Environmental Education Centers, Family Reunions, Family Violence Centers, Girl Scout Jamborees, High Schools, House Concerts, Human Relation Councils, Libraries, Malls, Middle Schools, Music Festivals, Nature Centers, Parks, PHD Parties, Planetariums, Preschools, Prisons, Rallies, Retreats, River Festivals, Science Museums, Seminaries, Staff Retreats, Storytelling Festivals, Stream Watch conferences, Teacher Trainings, Temples, Theaters, University Lecture Series, Weavers Guilds, Weddings, Winter Solstice Celebrations, Women Studies Conferences, Women's Festivals, World Aids Day Services, Youth Groups, Zen Centers, Zoo's, and MORE!